Another iPad Air 3 (iPad Pro mini?) case leak reveals 4 speakers, Smart Connector
11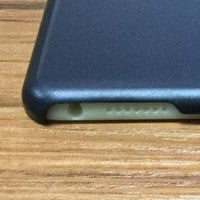 We've already heard a number of interesting things about the next 9.7" iPad that's expected to be announced by Apple some time this year (rumors say
18th of March
, together with the mini-sized iPhone 5se). While initial expectations were that it would be called the iPad Air 3, some rumors now claim that it will be a part of the
iPad Pro
line, with a name like iPad Pro Mini or something similar.
The reason why some people believe this is because
some leaks
have pointed out that the next 9.7" iPad will have a quad speaker setup for full stereo sound and will also feature the triple dot Smart Connector, which the iPad Pro uses to connect to a Smart Keyboard. So, yes, essentially, it will look more like a small version of the gargantuan 12.9" iPad Pro than an actual evolution of the iPad Air line, though that's just semantics.
A recent photo leak of an alleged case for the new tablet, complete with a dummy inside, clearly reaffirms the rumors about quad speakers and Smart Connector. This is great news for users who enjoy the much more manageable
iPad Air 2
but would love to try Apple's Smart Keyboard to punch out some documents while on the go, and to (finally) bask in stereo sound with their tablet, of course.
Would the fact that it'll be more of an iPad Pro than an iPad Air 3 mean that it's also going to have 4 GB of RAM? We can't say for sure – some rumors certainly
claim this to be true
, but we are a bit skeptical. Let's keep our fingers crossed until the 18th of March and hope that it gets announced!