Another battery explosion on a plane causes burns to woman's face
77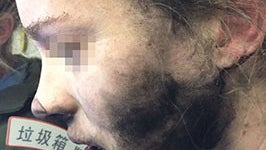 The smoldering issue of igniting batteries has once again given off a new spark with yet another battery explosion. And on a plane, too.
Two hours into a flight from Beijing to Melbourne, a battery-powered pair of headphones exploded and caused serious burns to a woman, the Australian Transport Safety Bureau has reported. The woman was just dozing off when she heard a loud explosion and woke up to burning sensations.
"As I went to turn around I felt burning on my face," the woman said to ATSB. "I just grabbed my face which caused the headphones to go around my neck. I continued to feel burning so I grabbed them off and threw them on the floor. They were sparking and had small amounts of fire."
Apparently, the battery was the source of fire and was left melted into the floor, according to the report. The report, however, is silent on the headphones make and model. Flight personnel were quick to put the smoking device in a bucket of water and attend to the woman's condition. Nonetheless, the smoke and smell of burnt plastic quickly filled the plane "and people were coughing and choking the entire way home".
Those guys can't catch a break, we know, but it does seem like other manufacturers and products are affected by the problem, too. We do keep fingers crossed that this latest incident will not be followed by successors, as we are ultimately talking about human health here. However, we must admit that the timeline of the burning batteries issue just doesn't let us get our hopes too high.