Anker's new super-fast wireless chargers are a perfect match for your iPhone or Galaxy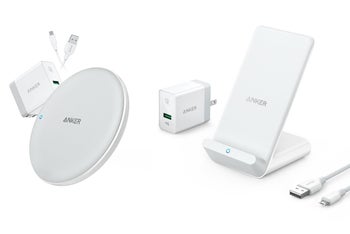 Popular accessory maker Anker just unveiled two new wireless chargers that will reportedly top up your
iPhone X
or
Galaxy S9
ever-so-slightly faster than the stock accesories Apple and Samsung respectively have in store.
The Anker PowerWave 7.5 Stand and 7.5 Pad are Qi-enabled chargers that will work with any device compatible with the now ubiquitous
wireless charging
standard, but are especially suitable for Apple and Samsung's latest devices as they support the fast wireless functionality the phones are flaunting. Normally providing 5W of charging output, Anker's accessories will increase the power to 7.5W if they detect that one of the latest iPhones is rested on it, but if you prop up a Galaxy S9, S9+, or a Note 8 on them, the output will jump to 10W. Such a fast energy throughput would make any gadget hot, but Anker has taken the necessary countermeasures - an internal fan will take care of any overheating and ensure you fully charge as fast as possible.
Don't worry if you have a thicker case on - these two will work with cases up to 5mm thick, provided they are not metal ones of course.
Although your mileage may vary, Anker claims that its PowerWave 7.5 accessories will charge your
iPhone 8
, 8 Plus, iPhone X just as fast as Apple's wired charger - a little over 3 hours for a full charge. With Samsung's high-end phones, the situation is even better: while Samsung's own fast wireless charger will take 3 hours for a full top up, Anker's PowerWaves will do the same trick 20 minutes faster.
You also get a Qualcomm Quick Charge 3.0-compatible wall unit to power up the wireless chargers, but there's nothing stopping you from using it on the side as well.
The PowerWave 7.5 Stand will set you back $49.99, whereas the horizontal PowerWave 7.5 Pad is a little more affordable at $45.99 though the stand is arguably more practical. You can get either of the two new accessories on Amazon.