Angry Birds to get angrier with update that adds 45 new levels to the game
5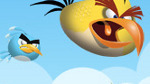 Addicted to Angry Birds? Own an Android phone? We have got some great news for you. A huge upgrade is coming to the Android model of the game, version 1.4.2, that will add 45 new levels to the game, fix some lingering bugs, and brings QVGA support to the game. With the addition of the new levels, the complete game now lasts 195 levels. The game now includes the episode "The Big Setup" in which the birds go up against a construction yard owned by the pigs. One downside to the upgrade is that ads are now placed right in your face.
Android fans of the game will be delighted to learn that a Christmas version of the Angry Birds will be made available to handsets running Google's open source OS. This should be coming to the Android Market sometime in the next few weeks. In the meantime, you can grab up the 1.4.2 build of Angry Birds from the Android Market for free. Some users of models like the HTC Tatoo and the HTC Wildfire reported having some issues with the game, so feel free to let us know if you have had any problems installing the game on your phone.
And now the Angry Birds characters can be yours outside of your cell phone, to hug and hold. A line of plush toys is now available. Simply click on this
link
.
source:
Rovio