Angry Birds may be the cause of $1.5 billion in productivity loss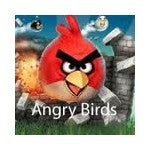 We know that this time of year tends to see a bit of a lull in news, so some pretty ridiculous stories come out, but this one is going a little far. The Atlantic's Alexis Madrigal put together some number about the potential impact of Angry Birds on productivity in the workplace. Luckily, Madrigal does readily admit that the numbers are far from scientific.
We've all seen statistics about how much productivity is lost because people use Facebook at work, or do other personal things. But, the story that rarely makes the rounds is that these breaks usually make people more productive, not less. Anyone who expects a human to work straight through an 8 hour day without breaks has no concept of how concentration works. People need small breaks throughout the day to reset their willpower and concentration, and these micro-breaks of checking Facebook or playing Angry Birds offers just that. So, Angry Birds may be a crazy time suck, but those few minutes usually lead to far better quality of work, and no real loss of productivity.