Angry Birds animated series coming to a smartphone near you
6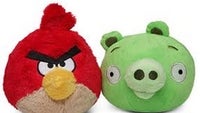 Chances are that unless you live on a tree in the jungle, you know what Angry Birds is. Regarded as the most popular video game in recent history, the franchise's success has spawned a whole lineup of
toys
, apparel, and even lead to the opening of a
theme park in China
.
And do you know what the next big thing in the Angry Birds universe will be? An
animated Angry Birds series
, of course!
"We're going to roll out a weekly animation series later this year of shortform content,"
said Nick Dorra, Rovio's head of animation, while speaking at the MIPTV conference in Cannes.
52 episodes lasting between two and three minutes each are planned to be released weekly on a multitude of platforms. Starting this fall, users will be able to watch them on their smartphones with a dedicated mobile application, but the series is expected to land on smart TVs as well. Oh, and if you are wondering what happened with that feature length Angry Birds movie, don't worry as it will be released eventually. However, that is not expected to happen until 2014, and who knows whether anyone will still be launching birds at pigs by then.