Android's road to the top (infographic)
13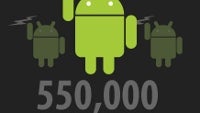 With the official announcement of
Android Ice Cream Sandwich
, Google answered a lot of questions. Most importantly - it gave us some clarity about the future of the platform, an unambiguous commitment to a single mobile operating system for both phones and tablets.
Our detailed
Ice Cream Sandwich preview
and a look at
ICS unannounced features
would give you a better idea about what the future holds for Android, but now it's a good time to look back at the path that Android has walked up until now and the current standings of the OS.
Started back in 2008 with the launch of the first Android device, the T-Mobile G1, Android quickly grew to extremely popular, giving a viable alternative to Apple's iPhone.
Its
US market share
skyrocketed from a mere 5.2% as of December 2009 to 40% in June 2011. The total number of activated Android phones stood at the impressive 150 million in August, with some 550,000 devices activated every day.
And while it's somewhat similar to iOS, Android comes with the promise to
open source code
, something reiterated in 4.0, Ice Cream Sandwich. It's also got probably the highest percentage of free apps on its Market, estimated at around 57%.
Check out the infographic on the right for all the curious little details as well as for our own wishes for the future of Android. But now it's back to you - what was your reason for considering Android or even switching to the platform?