Android worm Selfmite.b sends texts all of your contacts and urges them to install alternative app markets
24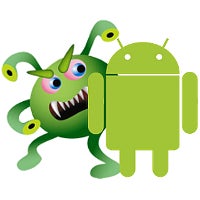 Nobody loves viruses, malware, trojans, or worms, but these malicious pieces of software have spread themselves to our smartphones, exploiting each and every security flaw that exists. Being the most popular mobile platform, Android is unfortunately the most common target for malware and worms, and one of the latest ones has the potential to supercharge your cell phone bill to unfathomable heights.
Named Selfmite.b, this worm is a lot more potent and "severe" successor of Selfmite.a, an Android worm that spread itself via an APK file and sent SMS messages to the first 20 contacts in your phone book. The messages contained shortened URL links to suspicious websites, which urged you to install alternative app stores. Hopefully, security researchers pulled the reins of Selfmite.a in a timely manner, but its successor is a lot worse. Selfmite.b is sends SMS messages with harmful links to all of your contacts, and it does this in a loop. Regardless of the mobile platform the victims are running, be it Android or iOS, Selfmite.b will always link to a potentially-unwanted website.
"According to our data, Selfmite.b is responsible for sending over 150k messages during the past 10 days from a bit more than 100 infected devices,"
revealed Denis Maslennikov, a security analyst with AdaptiveMobile.
"To put this into perspective that is over a hundred times more traffic generated by Selfmite.b compared to Selfmite.a."
This huge amount of SMS messages might cost you an arm and a leg if your cell phone plan comes sans unlimited ones. Currently, it uses URL shortening services like Go Daddy's x.co, which makes it pretty hard to cut the leash of the malicious app, as the wrongdoer behind Selfmite.b might dynamically
"change it remotely using a configuration file"
.
At the moment, Selfmite.b can be found across devices in Canada, China, Costa Rica, Ghana, India, Iraq, Jamaica, Mexico, Morocco, Puerto Rico, Russia, Sudan, Syria, USA, Venezuela, and Vietnam. As a precaution, always make sure that you install APKs from trusted sources.
source:
Adaptive Mobile
via
NetworkWorld