Android users, show us your custom home screens!
20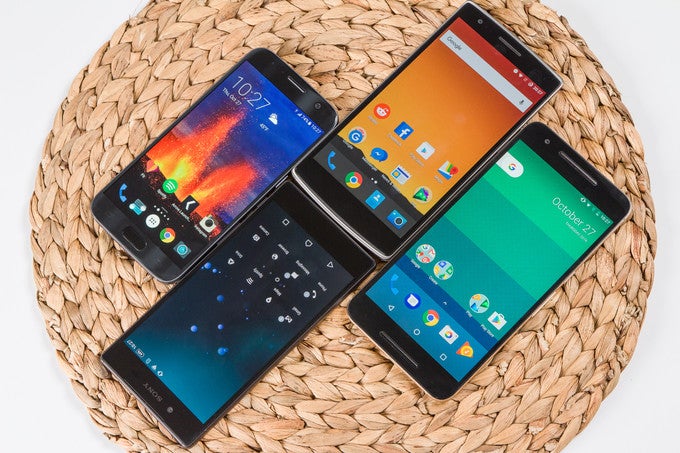 These home screens look pretty decent, but we're sure you can do even better.
As you might know, our team at PhoneArena definitely has a weakness for custom launchers.
iPhones
might be cool and all, but iOS isn't a system that is famous for being too flexible in terms of customization. When it comes to pimping up your home screen, no other platform does it better than Android!
Google Play's vast inventory contains hundreds of third-party launchers, icon packs, widgets and other apps that can completely overhaul your stock UI and turn it into a personalized masterpiece that caters to your every need. With that in mind, we did our best to seep through all the content and show you our
five favorite Android launchers
, but during our research, we also discovered many other solid pieces of software that offer comparable amounts of customizability and are regularly updated with new features. Our research also got us thinking on how many different things you can actually do with these apps, and how many unique and beautiful home screens are out there.
Do you use launchers on your Android device? Have you spent many hours into tweaking your UI? Would you like to share your personalized creation with the world? Well, the time to do just that is upon you – PhoneArena wants your digital work of art to become noticed! We will publish the most extraordinary custom-made home screens that are sent to us in an article in the following days.
In order to participate, please follow these easy steps:
Take a screenshot of your home screen. Your main page should suffice, but other nicely arranged pages are also welcome.
Open up your e-mail client of choice, upload your screenshot and type in your nickname, the phone that you use, as well as the name of your launcher. Bonus points if you share what icon packs, widgets and other apps you've used for your creation.
Send your submission to phonearenahome@gmail.com
Don't hesitate to show your talent! After all, coming up with a good looking home screen isn't an easy endeavor. A nice wallpaper and some third-party icons often are not enough, as one also has to consider aesthetics and ease of use. Our readership has already displayed their creativity with the
hundreds of gorgeous images
that they managed to take with their handsets, so we're really excited to see how you navigate through your phone! Other readers (us included) might even learn a thing or two from you!
Let the great home screen sharing begin!