Android security issues soaring, warns Kaspersky's CTO
32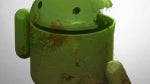 Nikolay Grebennikov, the CTO of antivirus company Kaspersky, has warned that the number of malware apps targeting Android are growing by the day, and are bound to go from strength to strength in the future. He says:
"The growth rate in malware within Android is huge; in the future there will definitely be more."
He goes on to say that hackers are targeting Android more than they targeted PCs when our computers were at the same stage of development. Moreover, the company claims that by March there were 70 different types of malware compared to only two in September last year.
This is the latest instance when we hear of someone who is either warning of security problems within Android or is reporting some breaches - we all remember the
security hole in Android's Skype
, which was
subsequently fixed
, and the instance when
Google had to pull out 21 apps
which were infected with a virus.
Google's official response to the latter scare is that its mobile OS won't be affected by similar types of malware in the future, as the Mountain View-based company has taken the necessary actions to address the issue:
"We are adding a number of measures to help prevent additional malicious applications using similar exploits from being distributed through Android Market."
Pretty much all analysts agree that Android is growing in popularity, and this, naturally, makes it more attractive to malware developers. Jay Abbott, director of threat and vulnerability at PricewaterhouseCoopers LLP says on the topic:
"Any time a technology becomes adopted and popular, that technology will be targeted by the bad guys."
Are you wary of the security problems present in Android?
source:
San Francisco Chronicle