Android's Skype has critical security vulnerability, endangers your personal info and your chat logs
10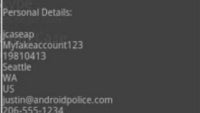 Well, here we go again. A simple test reveals that Android's Skype app is leaving
your personal data
- like your full name, date of birth, personal phone numbers, e-mails, city/state/country info, bio and so on, but not your credit card information -
not encrypted and easily accessible
.
Worse still, people who want to exploit this security vulnerability don't need to be knowledgeable malware developers - far from it, actually, as limited skills will do the job.
Your contacts' info is also comprised, and the worst of the worst seems to be that all your
Skype logs are also in danger of being revealed
- there is no point to dwell on that one, as we all use Skype and know perfectly well what are the potential consequences if someone manages to gain access to your chat logs with your name and personal information next to them.
As this problem affects the standard Skype client for Android, as well as the leaked Skype Video version, a simple calculation shows that the personal data (and the contacts' info) of more than 10 million users of Google's mobile OS may be endangered.
It's worth noting though that Verizon's version of the app is not affected.
It's reported that Skype is looking at the issue as we speak, but in the meantime you can check the video below, and see for yourself how easy someone may gain access to your personal data via Skype's app for Android.
We have contacted Skype requesting more info on the issue, and we will update as soon as we receive any additional information from the developer.
UPDATE:
We've been informed that the Skype team is currently working to find a fix for the problem. In the meantime, the company advises its Android users to be extra careful with how they select the applications to install on their devices.
source:
Android Police