Skype for Android security hole fixed; 3G calling now available to everyone
3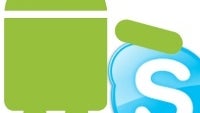 Remember that pesky
security hole
that was found in the
Skype
application for
Android
devices? Well, that vulnerability is a thing of the past now after an official update to Skype for Android took care of it, hopefully once and for all. However, there seems to be a significant bonus that comes along with the security fix.
Call it a way of saying "We're sorry!" if you will, but the update enables all Skype users to make calls from their Android-powered smartphones over
3G networks
. Until now, the feature was only a privilege that some Verizon subscribers could brag about, and needless to say, this discrimination was criticized by Skype users nationwide. With 3G calls now enabled for everybody, the service ought to make up for any loss in popularity that the security flaw may have caused.
If you are not a part of the big Skype family, feel free to give it a try. Calls between Skype users are free of charge, and paid services like international calls or text messaging come at pretty affordable rates.
source:
Skype
(Android Market)