Android-powered Nokia X (Normandy) rumor round up: specs, interface, release date and price
30
Even by the liberal standards of rumors, the Nokia X (Normandy) has been quite an elusive device. It's kind of unnerving, really, seeing as we keep on getting fed more and more tangible-looking information about what is said to be Nokia's first (and perhaps only) Android device, and yet, at the same time, we can't shake off that feeling that something doesn't quite add up. You see,
Microsoft bought Nokia
. Microsoft is also responsible for Windows Phone, a mobile platform that has struggled, clawing its way to the top 3 -- a goal Microsoft set for itself. It does not make sense for Microsoft to ever let an Android device make it out of the lab, even if there was such project to begin with. Truth is, we don't really know. But we like our chances regardless. Master leaker @evleaks has been very consistent in providing intel about the project, and he's had a pretty stellar track record as far as rumors go. Better than anyone else, actually.
So, now that we've firmly established a bittersweet mood, we should probably move ahead and share everything that we know so far. We'll try and be methodical about it, as we actually have quite some clues about what the Nokia X (Normandy) may end up looking like, and we're not without a clue as to what to expect on the inside. Let's talk rumors, boys.
An Asha design
The only other detail that we were made privy to, is the rumor that the Nokia X will come in 6 different color options, which is not at all unlike Nokia, to be perfectly honest.
Android without its beating heart?
Most of you will need little persuasion: the app ecosystem is what defines the platform. Unfortunately, we've been given some conflicting information as to what approach exactly Nokia would take, should the Android-powered X ever become a reality.
The most reasonable, and supported by evidence claim is, that the Nokia X will run a fork of the open-sourced OS. Like Amazon. Unlike Amazon, however, Nokia doesn't really have a comparable app store, meaning that the Android running on the X may be gutted. On the other hand, some of the initial screenshots of the Nokia X's UI do showcase a few popular apps, and @evleaks did mention that a Nokia Store plus a third-party store will make an appearance with the phone. It's also worth pointing out that, in contrast,
a Vietnamese retailer actually posted a listing for Nokia's Android phone recently
, and the listing itself pointed towards support for Google's Play Store and other essential Google services. It's obviously possible that this is a simple misunderstanding, and the phone was uploaded with a generic set of attributes meant for your typical Android device, but it's also worth keeping in mind.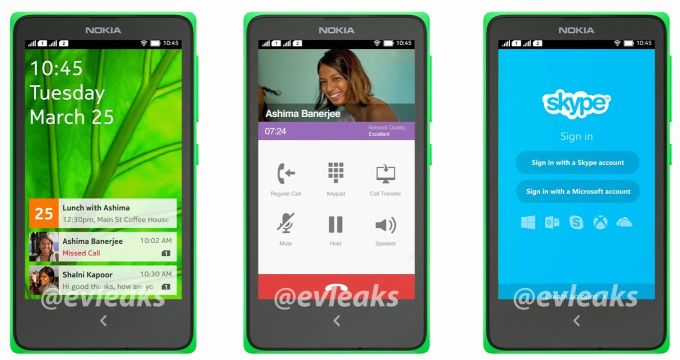 But lets talk interface. As evident, Nokia seems to have worked up quite the Android skin. It screams Nokia, and it doesn't really feel like Android at all. If anything, many have likened the UI to that of Windows Phone due the tiles (check gallery at the bottom). In any case, @evleaks claims that the phone will have "two ways of interaction", likely referring to the arrangement of the homescreen and how you get to use it.
The Nokia X's low-end innards
Ever resourceful, @evleaks has also provided us with some concrete specs that we can expect the Nokia X to come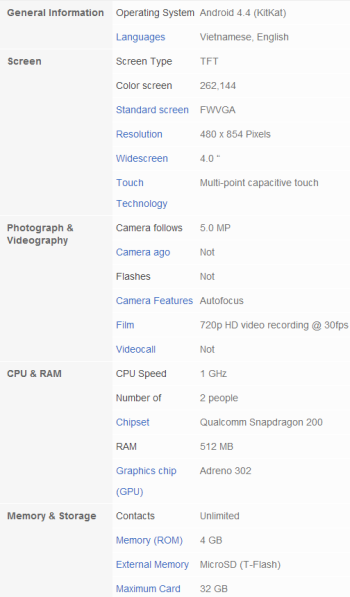 'boasting' under its unpretentious hood. We're told to expect a very compact, 4-inch WVGA display (480x800) of unknown make, a 5-megapixel rear shooter, and a 1500mAh battery. Powering the handset will be something just as humble -- a dual-core, 1GHz Snapdragon processor and 512MB of RAM. The Nokia X is said to be outfitted with two SIM slots and 4GB of internal storage, expandable via a microSD card. These specs actually corroborate with the aforementioned specs on Vietnamese Gioididong's site, which also adds Android 4.4 KitKat into the mix, along with support for Bluetooth and FM radio. As you can guess, it'll be quite surprising to see Nokia jump right onto the very last version of Google's OS, though that sure would make for a grand entrance.
Anyway, these specs are obviously nothing really impressive, though an entry into the Browsermark benchmarking suite of a device code-named RM-980 may indicate that at least browsing is something that the Nokia X will handle without any serious hassle. We're only assuming that this is the Nokia X, because there's no other Nokia device that could run Chrome for mobile -- the very browser that was used when running the benchmark. The score the Nokia X achieved, 1886, puts it in the same league as mid-range devices such as the Sony Xperia C and even the Lumia 1020. Who knows,
perhaps Google really did streamline Android with KitKat, and it is now indeed more welcoming to devices with 512MB of RAM
.
Price and release date
We've been given no concrete price range or release date for the Nokia X, but that doesn't mean we haven't been hearing stuff, or that we're without some imagination. It stands to reason to expect the Nokia X to be a very affordable device, aimed at emerging markets, where the glut for cheap smartphones is currently off the charts. Seeing as the $100 Lumia 520 was such a massive hit for the company, we'd expect Nokia to know better than most, and not go overboard with the price tag.
As for a release date, there's been some murmur about a possible MWC release, but also rumors of a March unveiling. From what we gather, however, these claims are mostly rooted in speculation born off the date shown in some of the renders -- Tuesday, the 25th. As it turns out, both February the 25th (when the MWC is taking place) and March 25th happen to fall on a Tuesday, which is why either of the two months is suggested. In other words, keep on checking back, as we'll be keeping this post up to date with the latest rumors we come across.