Android is hot, wearables not, Google's OS more likely to be adopted than Apple's iOS, new study finds
16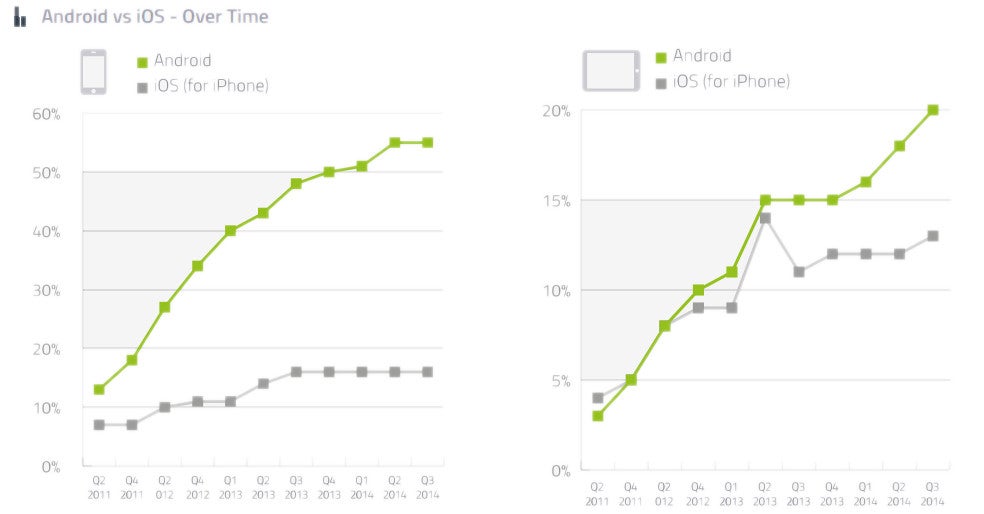 A recent study procured by GlobalWebIndex claims that Android is running circles around iOS when it comes to distribution. GWI interviewed more than 40,000 users from 32 different markets from all over the world in Q3 2014. Let's see what they found!
The survey reveals that Android enjoys a comfortable lead ahead of Apple's iOS, as 54% of the interviewed revealed they have an Android device. Just 16% of the respondents claimed that they own a iOS-powered smartphone. What's more, it looks like the best-selling iPhone devices of all time, the
iPhone 6
and
6 Plus
, might not have affected the market position of iOS as much as most previously suspected.
The ratio between Android and iOS users was roughly 2:1, it now stands to 3.5:1. The main reason for this is that Android grows quite fast in emerging markets, while Apple's products are quite well-accepted across more mature markets.

Google's OS reportedly remains the king in the castle when it comes to tablets as well. Some 20% of the interviewed users revealed that they have a tablet with Android inside, whereas slightly less, 13%, said that they own an iPad.
To top it all, 80% of all interviewed users revealed that they have a smartphone and 50% don a tablet, which is the highest adoption level ever. Said devices are mostly used for browsing the web, as 75% of all respondents said that they're using their digital companions mainly for this purpose.
And what about wearables? Well, GWI's study claims that these are still struggling to make their way to consumers' wrists (or other compliant body parts). Only 9% have a smartwatch, while smartbands bask in even less user popularity - just 7% of the interviewed ones have one.
This is totally not the only study that regarded the "Android vs iOS" race - last week,
we told you that Apple's OS
is almost on par with Android on the US market. In the meantime,
Gartner revealed
that Android is indeed crushing iOS globally, achieving a record-breaking market share in Q3 2014.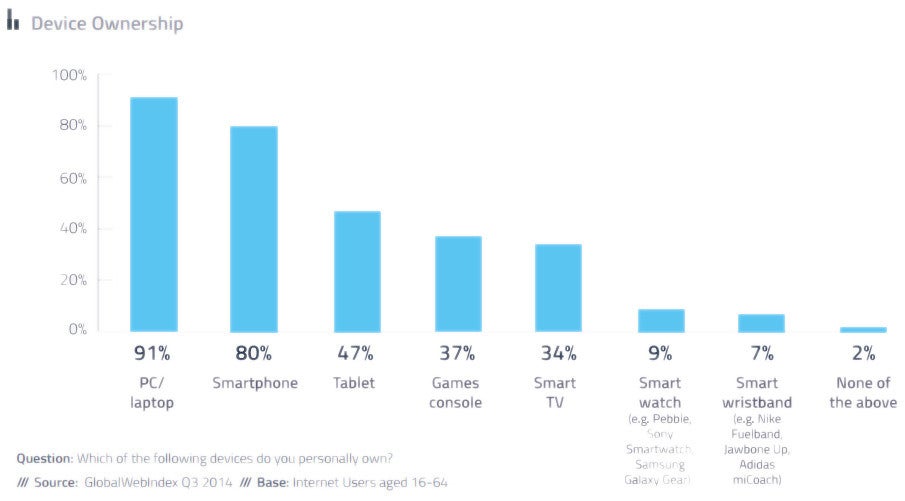 source:
GlobalWebIndex
(PDF) via
TechCrunch