Android for the "Internet of Things" in the works: Codenamed Brillo
7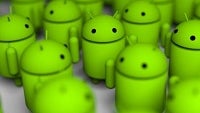 Google's mobile operating system, Android, has proven itself to be one of the
most versatile platforms
in the world. From watches to washing machines, you can find a number of devices and appliances that operate on Android in some way.
One of the perceivable barriers to Android however, is in the area of more simple connected devices (Internet of Things), such as sensors or automation pieces that do not need an elaborate architecture or large amounts of memory to run.
In its current form, Android will operate on platforms with is little as 512MB of RAM. That is about the bottom limit for mobile devices and wearables, but well beyond what might be needed for a simple dongle.
To pave the way for more simple connected devices, Google is reportedly working on a release of Android that will be able to run on devices with as little as 32MB of RAM. The project is codenamed "Brillo," and it will allow Android in all the little nooks and crannies of connected devices.
What is not certain is how Brillo will work within the framework of, or ultimately replace the APIs in place with Nest, which is where the majority of Google's home-automation resources are situated. If Brillo is ready for the spotlight, we will likely see an announcement at Google's developer conference in San Francisco next week, Google I/O 2015.
via:
TNW
Recommended Stories