Android arrives in a $74 mini flash drive computer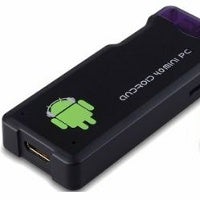 Android is a free and open operating system, and if you want a proof look no further than what retailers choose to do with it - now, it ended up on a USB thumb drive that you can connect to your TV or monitor, and paired with a wireless keyboard and mouse, you end up having an extremely affordable computer in your pocket. The flash drive with Android on board costs $74, and packs an AllWinner A10 processor clocked at 1.5GHz plus the extremely popular in China Mali 400 GPU, the very same graphical processor as the one on the Galaxy S II.
That turns out to be a potent combination, and we've seen many white box makers release tablets that can easily handle graphically intensive games like GTA on Google Play. The thumb drive also comes with a microSD card slot, so you can load up another operating system, say a Linux distro like Ubuntu, and have a Linux box ready.
It connects to your TV or monitor via HDMA, and it's a female connector, so you'd need to have a separate cable.
Here are the rest of the spec highlights of this cheap miniature Android computer:
- AllWinner A10 @ 1.5GHz CPU + Mali 400 GPU
- 512MB RAM memory
- 4GB Flash storage
- microSD slot (Up to 32GB)
- WiFi 802.11b/g
- micro USB 2.0/OTG port
- USB 2.0 Host port
- Android virtual keyboard or 2.4G wireless keyboard + fly mouse
- HDMI (1080p)
- 8.8*3.5*1.2cm in size
- weighs 200g
If you want a flash drive that you can directly plug into your TV or monitor, earlier in the year we saw the Cotton Candy solution with the same GPU, but a dual-core processor and a male HDMI connector. It will cost you $199, though, so if you want to save, head on to the source below to learn more about the new thumb drive.