Android Pay and Samsung Pay finally work with US Bank MasterCards
3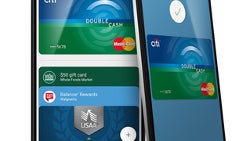 US Bank MasterCard holders can finally use Android Pay and Samsung Pay for "wallet-less" transactions. Although US Bank was one of Anroid Pay's launch partners, until now only Visa cards were supported. Both mobile payment systems are also available for co-branded cards from partners of US Bank, such as REI and Edward Jones.
Of course, such transactions are possible only at designated terminals and your device needs to be NFC compatible. In the case of Samsung Pay, the device must either be capable of using Magnetic Secure Transmissions (MST), which work with traditional magnetic-stripe readers, or NFC enabled.
As far as security is concerned, the mobile payments systems do not send actual credit or debit card numbers to merchants when a transaction is made. Instead, through a process called
tokenization
is employed, which replaces card data with a virtual account number to represent a customer's account information.
The future is now, people, as we are getting closer and closer to the moment when we won't need wallets at all. Come on, you won't miss the ol' leather flap. It will be one bulge less in your pockets ruining your sexy figure!
Read more about the two payment systems:
Recommended Stories