An iPhone X-style notch and gestures on Android? Some shrug, but more gasp (poll results)
23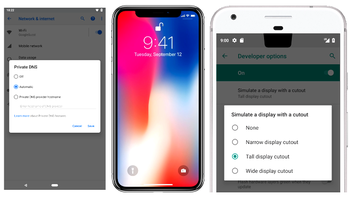 With the
P20 family
of Huawei, we have the first major Android handsets that have reworked the interface to fit a notch in, and even add an
iPhone X
-esque home indicator in the nav bar settings. Huawei is not even the major offender here, as plenty of Android makers before it announced phones with notches, and Google itself
lended support for it
in the next version.
This is why we asked you last week whether you approve of this follow-the-trend mentality that Google seems to be introducing with Android P. Well, it turned out that a full 47% of our respondents don't really care, as long as the notch and gestures help screen-to-body ratio and navigation. A bit more numerous is the tribe that thinks Android makers, and Google itself, should be more original when it comes to setting trends no, rather than following them.
Google recently
cut out an image from its developers blog
, as it was showing the overhauled navigation paradigm of the
upcoming Android P update
before it had become official. The shots depicted a new navigation strip that had only two virtual buttons - an elliptical home bar, and a back key - with recent app duties allegedly taken over by a swipe-up gesture.
iPhone X-style gestures
may actually find their way into
Android 9.0 Popsicle
, or whatever it's called, that should be announced next month at
Google I/O
, which will be held May 8-10 at the Shoreline Amphitheatre at San Francisco, California. That navigation and gestures aren't a true iPhone X ripoff, though, for the simple reason that iOS doesn't have a universal back key (duh).
Still, if the home key becomes a mere gesture indicator like it was depicted by Google, while swiping up and holding would bring recent apps, the copycat journey would be complete. Adding insult to injury, Android P is already introducing
official screen cutout support
, aka the notch, as you can see from Google's official developer blog imaging on the right.