Android Developers post shows off the LG G Watch and Moto 360
28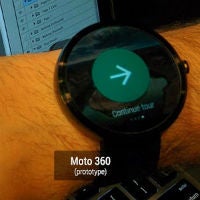 We're getting very close to the announcement and release of the first Android Wear devices. We've been seeing a few
interesting
leaks
about the LG G Watch, and today Google's Android Developer blog has posted an interesting article that happens to also show a couple teasers of the LG G Watch and the Moto 360.
The post itself is a description of building an app for Android Wear which would provide the user with a walking tour of a place. It shows how developers will be able to see their apps in action because the Android Design Preview will mirror what you're building on a connected wearable. It also shows that the difference between designing for the square G Watch and the circular Moto 360 is pretty small, just a matter of tweaking the metrics on a layout with no need to create two layouts.
The devices on the developers' wrists actually look pretty good. They don't look too bulky or odd. The Moto 360 actually looks slightly bigger, but without seeing the full scale of the man wearing the device, it's hard to judge exactly what to expect. Either way, we've got less than one month to go!