Android 5.1 Lollipop: here's what's changed in the newest and sweetest version of Google's OS
27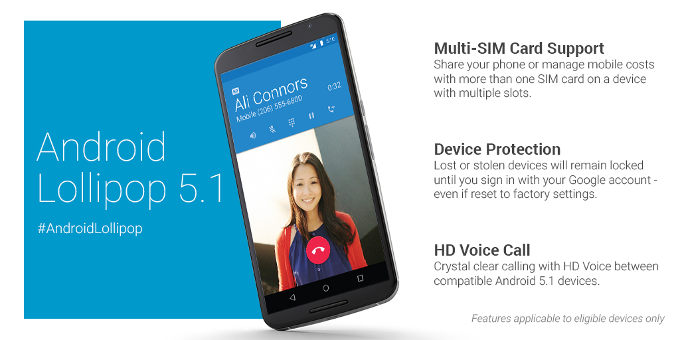 After numerous cameo appearances on various Android One devices,
Android 5.1 Lollipop
is finally as official as it gets. The factory images are already up and available for download, and just as you might imagine, we updated our trust resident Nexus 5 with the newest version of Android as soon as we could, eager to point out the differences that it bears over the previous version of the OS and determine if it's another step in the right direction.
Officially, Google stressed upon on just a few new features - support for multiple SIM cards, Device Protection and HD voice calls on compatible phones, as well as improved quick toggles. The nitty-gritty of this update are the numerous bug fixes, which are detailed in roughly 14,700 lines of code (you can check out the full Git changelog right here). The majority of these regard under-the-hood improvements and fixes - most notably, it seems that the memory leak issue is no more!
From the brief time we spent with it, we can safely say that Android 5.1 feels noticeably smoother than the previous Lollipop installments. The Material Design philosophy itself is slightly perfected, bringing many more subtle animations here and there that don't affect the user experience much, but are a nice interface touch. Call it a placebo effect, but our Nexus 5 now feels more stable; what's more, performance seems to be improved a bit, which is always a welcome, isn't it?
However, we noticed many other small changes in the newest take on Lollipop. We've summarized the more noteworthy ones right below.