Android 5.1 Lollipop OTA update now rolling out to the LG Nexus 4
6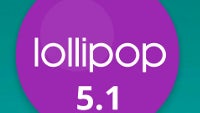 After updating the LG-made
Nexus 4 to Android 5.0 Lollipop
back in November 2014, it looks like Google has started sending Android 5.1 Lollipop OTA updates to Nexus 4 owners. The update measures 174MB, meaning that some of you might be able to download it through your 3G connection (the Nexus 4 lacks LTE compatibility), but it's probably best to download it through a WiFi connection, and save up on your data plan.
Installing the 5.1 Lollipop update will upgrade the Nexus 4 from build number LRX22C to LMY47O. As many probably already know, Android 5.1 Lollipop is an incremental update over 5.0 Lollipop, mostly bringing bug fixes and performance improvements to the table. The minor additions include the new Device Protection feature, as well as the ability to quickly pair Bluetooth devices and join WiFi networks directly from the quick settings panel. This is the fifth Android version that reaches the
LG Nexus 4
, a smartphone launched back in October 2012 with Android 4.2 Jelly Bean on board.
As the Nexus 4 was released more than a couple of years ago, it's nice to see Google updating the smartphone to the latest version of Android, although this move will probably infuriate
HTC Nexus 9
owners who are still waiting for a taste of Android 5.1 Lollipop. Google has yet to publish the Android 5.1 Lollipop factory image for the Nexus 4, but you can head on to the download link below and install the update for yourself if you're up to the task.