Android 4.4 KitKat not coming to non-LTE Samsung Galaxy S III and S III Mini?
11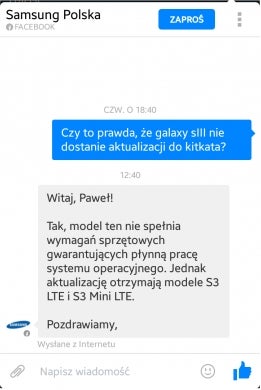 Earlier this week,
Samsung Poland revealed a list
of Android devices upgradeable to Android 4.4 KitKat.
Naturally, devices like the Galaxy Note 3 and Galaxy S4 (which are already getting the KitKat treatment in many markets) are included in the list, but the older Galaxy S III and S III Mini were left out. However, both the Galaxy S III and S III Mini have made it to
Samsung USA's list of KitKat-ready handsets
. Why is that? Well, according to Android Now, a Samsung Poland rep said that KitKat would be pushed only to the LTE variants of the S III and S III Mini.
Even so, since there is no official confirmation on this, owners of non-LTE Galaxy S III and S III Mini shouldn't lose hope yet. While it's true that the Galaxy S III LTE has 2GB of RAM and the non-LTE model only comes with 1GB, this should not be an issue. The Galaxy S III Mini LTE doesn't have more RAM than its 3G-only version, and yet it was mentioned among the phones that are upgradeable.
source:
Android Now
(translated) via
SammyToday