Android 4.3 to bring virtual surround sound to the Nexus 10
7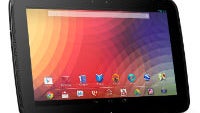 During today's announcement for the new Nexus 7, Google mentioned that the device would feature "virtual surround sound" which Hugo Barra claimed would sound as though you had a 5.1 stereo system. Well, it turns out that the feature isn't due to the hardware in the new Nexus 7, but rather the software of Android 4.3.
The changelog for the
updated Google Play Movies & TV
app says that in addition to adding support for the
Chromecast
, it adds "support for virtual surround sound on the new (2013) Nexus 7, and on the Nexus 10 running Android 4.3". So, obviously once the Android 4.3 update rolls out to Nexus 10 users, they will also be getting the new virtual surround sound.

Of course, this also indicates that apps will have to update to take advantage of the virtual surround sound, so even after you get Android 4.3 on your Nexus 10, it may not change anything in other apps. It also seems to indicate that other manufacturers may have to do something on dual-speaker devices to enable the virtual surround sound with their Android 4.3 updates.