Google Chromecast introduced, control your TV from any device
32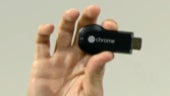 Google has just introduced
Chromecast
, a tiny dongle that you insert in your TV's HDMI port, and that allows you to control your TV from any device, be it based on Android or iOS, or even laptop. The device is completely cross-platform. Chromecast looks almost exactly like a USB flash drive and it actually powers via USB.
The Chromecast inserts in the back of your TV (or where your HDMI TV port is) and completely disappears from the view. You just have to connect it to the same Wi-Fi network as your mobile device. From there you just either open the YouTube application or the YouTube website where Google is introducing a new button. Tap that button and the video you are in gets automatically streamed to your TV set.
You don't even need to turn on your TV. Doing this on your phone
automatically turns on the TV
, switches it into the right mode and starts the video. You can play a single video, or queue multiple videos into a playlist.
The new Chromecast also works with Netflix so you can easily watch and control your favorite movies.
Best of all, you can also
beam Chrome tabs
from your device right to the TV. This feature is still in beta, but it'd work great with photos and just any type of content. Imagine the possibilities - all the web in a fully functional browser. If you are streaming from a laptop, you can continue browsing while you stream. This will work with most Windows, Mac and Chrome OS laptops, even affordable ones.
Best of all, the Chromecast goes live today and is
priced at the ridiculous $35
so you can connect all your TVs. It is bundled with three months of free Netflix. It will be available with most major retailers from July 28th, but you can buy it on the Google Play store right now at the link below.