Google Play Movies & TV and Music apps updated with Chromecast support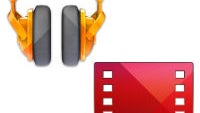 As you should have expected after the news of the Chromecast broke, there are some app updates on the way. The YouTube app doesn't need an upgrade, because Chromecast uses the same flinging method as Google TV, but Google Play Music and the Movies & TV app both needed upgrades to work with the new device, and both have received the updates.
If you check your Google Play Store updates right now, you should see updates for both apps. Other than support for Chromecast, you won't find much else new in the Play Music app, just some bug fixes and a slight UI tweak to make context menus easier to tap.
But, the Play Movies & TV app does have a few extra additions. The app adds support for virtual surround sound on both the new Nexus 7 and the Nexus 10 running Android 4.3, and there is a new option for syncing your Watch Now items across devices. Of course, there are also the usual bug fixes.
As we said, the updates should be in your apps list in the Google Play Store.