Android 4.3 Jelly Bean opens a world of possibilities for notifications
23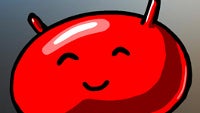 Android 4.3 Jelly Bean leaked out
last week and we were among the first to take it for a spin and
show you the new features
, but one very exciting novelty went under our radar. Apparently, Google is preparing to do a lot of important changes to notifications. Most important of them? Third-party accessories will get easy access to the notification bar and will be able to basically replicate it. This would open the door for so much wider range of capabilities for accessories.
With Android 4.3 apps would be able to read, discard notifications and even activate buttons in the notification bar. Basically, this grants full access to the notification shade for third-party applications.
Such apps would be called
"Notification listeners"
and there is even a separate menu te menu that you can access if you have flashed 4.3. In Settings -> Shortcuts -> Settings Shortcuts you'd see a listing for
"Notifications"
. Tapping on it opens the new screen.
What does this entail? First of all, more opportunities for third-party applications obviously. Also though it could be a hint that Google is paving the way for itself, so devices like a future smartwatch or Google Glass would have deeper integration with Android. Eventually, who knows, this might be the first step toward replaceable notification panels. In either case, we're looking forward to Google's official explanation.s
source:
Android Police