Android 3.0 Gingerbread report might have been rubbish
This article contains unofficial information.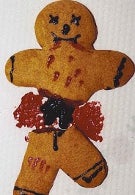 We recently
reported
that mobile-review's Eldar Murtazin had passed along some information about Android 3.0, also known as Gingerbread. To refresh your memory, Murtazin had said that Gingerbread would launch in October and had requirements, namely that an Android handset had to have a 1GHz processor under the hood, 512MB of RAM and a 3.5 inch display or higher. Today, Dan Morrill refuted the whole story, and if anyone should know about Android, it is Morrill. After all, he is the Android Open Source and Compatibility Tech Lead. He is well connected when it comes to Android and in two tweets, he shot down Murtazin's information. One tweet said , "In summary, please remember that rumors are not official announcements." The second tweet said, "I love it when people just make stuff up and report it as news." That tweet included a link to a story about Murtazin's incorrect info. The best part of Morrill's refuting of the original story is that Motorola DROID owners get a reprieve for the moment about the Gingerbread update. Sure, we are jumping the gun-the handset is still waiting for Froyo-but knowing that there is still a chance that the first-gen DROID will not reach the end of the line with Android 2.2 might give current owners a little more breathing room before jumping to a 1GHz device.
Motorola DROID Specifications
|
Review
source:
AndroidGuys