Android 2.1 will make its way to the Samsung Moment on February 22?
8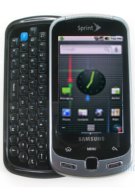 There are a lot of Android handsets that are anticipating to see Android 2.1 land some time soon to existing models, but now the Samsung Moment can be added to the list with a potential date lined up. Although the Moment is still running Android 1.5 and could've been easily lost among the other big named Android phones expected to make the transition to 2.1, it may see light sooner than expected – the first wave is expected to happen beginning on February 22. Unfortunately it will not be an over the air process, instead it will require owners to visit Sprint stores to actually get it installed. It's still not a terribly bad thing when you consider that the Samsung Moment is
reported to get 2.1 as opposed to 2.0.
If you do plan on skipping the first wave, then you can sit back at home as the second one will go live on March 8 – that one will be pushed out via OTA process. It's yet another reason why Samsung Moment owners can rejoice – let's just hope it comes out on time with the latest version
Samsung Moment Specifications
|
Review
source:
Android Central