Android 2.1 powered Dell Thunder plans to make some noise with its Hulu app
This article contains unofficial information.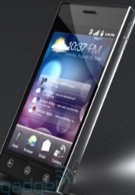 Whenever a storm is brewing, one can only expect to hear the sharp rumbling of thunder in the faint distance – but with each moment that passes, it only becomes stronger and stronger until its presence is inescapable. Although its no secret that Dell is about to take the mobile market by storm with the
Dell Aero
and
Mini 5
on the horizon, but their first giant is about to wake up bringing along some noise that refuses to be ignored. The Dell Thunder has been leaked and it roars extravagantly with its high-powered offering that's sure to make its own niche in Android land. This Android
2.1
smartphone packs a deafening punch with its 4.1" WVGA OLED touchscreen, 8-megapixel camera, and a Snapdragon processor. In reality, the exciting part about this handset is not found in its chic exterior, but it's found instead in the custom UI it'll be showing off and something more. Running on top of Android 2.1 will be Dell's custom "Stage" UI that integrates some social networking aspects that slightly looks to follow in the footsteps of HTC's Sense UI with its nice looks. Similar to other touchscreen only devices, it'll come packed with the good old Swype keyboard to lessen the strain on your thumbs – although it's spacious real estate should provide some comforts. Finally, leaked documentation points to the notion that it'll have Flash 10.1 on board as well as an "integrated web video Hulu app." Unlike Netflix's watch instantly movies that requires a subscription, the Dell Thunder should be able to replicate a decent experience with this Hulu app that Apple iPad owners are enjoying with their Netflix app. So which lucky carrier will be getting a taste of the Dell Thunder? Well it looks like AT&T will be it as the handset should become available some time around Q4 of this year. Between now and then, we're sure that the Dell Thunder will continue to make some additional noise.
source:
Engadget