AnandTech reviews the iPhone 5: A6's Swift processor clocked at 1.3GHz, taken through paces
30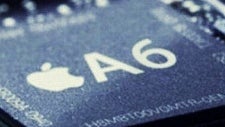 The
Apple iPhone 5
has been out for almost a month now, and while that might seem like a lot of time, it has been barely enough for tech gurus from AnandTech to take the device through its paces. And testing they did.
Why is this important? AnandTech gives the single most technical review of the iPhone 5, so for those who really want to understand what hardware Apple uses and why despite playing down specs, the company is actually running ahead in the silicon race. At the same time, Apple releases very little technical details about its custom-made chips like the A6 in the iPhone 5, and that's why you need to do some state-of-the-art testing to get basic specs like the clock speed of the processor.
The first big conclusion that Anand and crew draw about the iPhone 5 is that Apple is actually delivering more than the double processor performance it announced at the unveiling. The iPhone 5 is powered by an A6 chip and on the die is a processor clocked at the
unprecedented for Apple 1.3GHz
. The processor itself is called Swift, and it is a custom Apple solution built on top of the architecture license from ARM. Anand expects this to signal a huge increase in the next iPad's processor, possibly with Apple bumping it up to 1.5GHz.
Sadly, there are little good benchmarking apps for iOS (and cross-platform for that matter) to fully show the differences, but from the few Javascript tests available, it is clear that the iPhone 5 processor is cream of the crop, second only to Intel's Atom Z2460 chip found on devices like the
Motorola RAZR i
. Apple has shrunken the size of the A6 chip itself, but it's still not a small one.
You might remember that the iPad starting with the late second-gen tablet had the huge A5X chip, measuring a whopping 163mm2. This meant a lot of space for graphics, but while the new A6 measures a comparatively low 97mm2, it still has three cores, and runs all three cores at 33% faster speeds than on the A5. All are still PowerVR 543 cores, and this makes the whole setup deliver performance comparable to that of the third iPad. The difference? It's in a phone.
Bottomline is that when someone tells you that Apple doesn't care about specs and hardware, they'd be plain wrong. The company in Cupertino is on an aggressive one year cadence which it has followed rigorously with the sole exception of the iPhone 4S. While rivals like Samsung also have started releasing one flagship per year, Apple has the advantage of a fall launch, just in time for the Holiday season when sales flourish. There is a lot more to learn in the review below, so just head on there for all the interesting details.
source:
AnandTech