5G iPhones expected to provide Apple with stronger handset revenue growth next year
19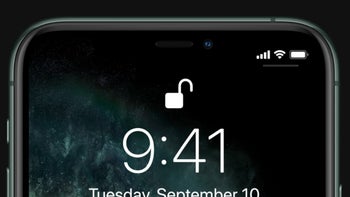 Yes, the 2019 Apple iPhone models have been released for just over a week, but already the talk has turned to next year's line. Apple is expected to redesign the 2020 iPhones and some-or all-of the models could support 5G connectivity.
According to Seeking Alpha
, JP Morgan analyst Samik Chatterjee says that this year's phones will do better than the "muted expectations" that Wall Street has forecast and he expects these estimates to rise "materially" as the year progresses.
But Chatterjee's eyes are on next year and he says that 5G iPhone sales "will drive high investor confidence in the sustainability of revenue growth even in the backdrop of a mature smartphone market." 5G is the next generation of wireless connectivity and U.S. carriers are beginning to offer it in certain markets. Nationwide 5G should be available next year with T-Mobile expected to be the first to complete a coast-to-coast network. Download data speeds will be 10 times faster than 4G LTE speeds allowing users to download movies in seconds. But the next generation of wireless is about much more than that. New businesses and industries will be created to take advantage of the faster wireless speeds and the global economy should get a boost.
Apple traditional lags the transition to the next generation of wireless connectivity

Several Android manufacturers have already released 5G phones in the U.S. such as Samsung, OnePlus, LG and with a Roger Maris-like asterisk (Google it), Motorola*. The latter's phones like the
Moto Z4
and
Moto Z3
require the use of the company's 5G Moto Mods to connect to Verizon's network.
As for Apple, the company is repeating the routine that it used during the transition from 3G to 4G LTE. Remember that commercial from back in 2011 where
Samsung made fun of iPhone fans waiting in line for 2011's iPhone 4s?
The ad was created to promote the
Samsung Galaxy S II
which was already offering 4G connectivity at a time when the iPhone was supporting 3G. In the spot, those waiting in line are impressed by a passer-by sporting the Galaxy S II who asks, "Why don't you guys just get 4G phones?" You also might recall that at a time when 3G was available, the original
iPhone
ran over AT&T's insufferably slow
EDGE
network. Not only was there a huge difference in quality between YouTube videos played over EDGE and on Wi-Fi, you could not use the browser and receive a call at the same time. Apple immediately remedied this by introducing the
iPhone 3G
in June 2008.
Besides 5G support, the 2020 iPhones are rumored to have some new screen sizes. Assuming that Apple calls next year's models the
iPhone 12
instead of the iPhone 11s, the
iPhone 12 Pro Max
could come with a 6.7-inch AMOLED screen. The
iPhone 12 Pro
could sport a smaller 5.4-inch AMOLED display and the iPhone 12 a 6.1-inch AMOLED screen. Yes, all three phones next year should feature an AMOLED display. The trio will be powered by the A14 chipset built on the new 5nm process. This means it will contain more transistors than the A13 Bionic and should lead to greater performance and better energy consumption. We also could see Apple finally drop the proprietary Lightning port and turn to Type-C instead. Reliable Apple analyst Ming-Chi Kuo has already said that next year's iPhones will have a smaller notch.
One of the biggest design changes could be the addition of a metal frame; this could give the 2020 iPhone models a resemblance to the
iPhone 4
. The latter, first released in 2010, was compared to a beautiful old Leica camera by then Apple CEO Steve Jobs.