Analyst sees Apple's AR smartglasses becoming bigger than Apple Watch, just as big as the iPad
43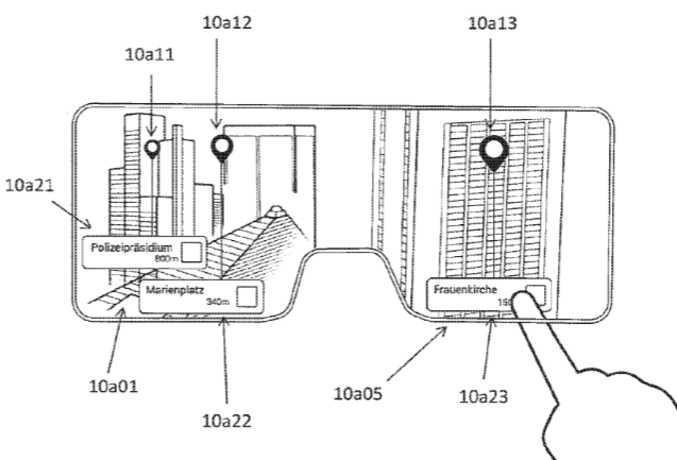 Earlier this year, a patent application filed by Apple included this sketch of what Apple's smartglasses might look like from the wearer's point of view
Earlier this year, we passed along some comments from former analyst Gene Munster, who claimed that Apple iPhone sales will peak in 2019 with Apple's smartglasses launching the following year. At that point,
Munster sees the iPhone getting replaced by the AR powered glasses as the biggest selling product in Apple's lineup
. Another analyst, Bernstein's Toni Sacconaghi, wrote a note to clients stating that as much as Tim Cook loves AR, it won't impact Apple's bottom line until the company produces a pair of smartglasses.
Like Munster before him, Sacconaghi expects Apple Glasses (as the product might be named) to be enormous for Apple. In a note to clients that was obtained by
Barron's
, the analyst quotes Apple's CEO as saying last October 3rd, "I am so excited about [AR], I just want to yell out and scream." That kind of excitement has Sacconaghi thinking that Apple believes that its AR smartglasses could be the next big thing. And make no mistake about it, with the iPhone making up 70% of Apple's top and bottom lines, it will eventually need a new big thing.
The note goes on to list a number of failed attempts that other companies have made in taking Augmented Reality and trying to make a consumer hit out of it. These devices include the Google Glass, Lenovo's
Phab 2 Pro
handset, and Microsoft's HoloLens to name a few. These failures have given Apple an opportunity, according to Sacconaghi, to come up with something that will grab the consumer's attention. He says that this won't be the
Apple iPhone 8
as AR on the tenth anniversary iPhone is going to be limited.
The analyst says that AR works better on smartglasses than on smartphones. And for Apple, he sees three reasons why Apple Glasses makes sense. One, smartglasses have the potential to be a very big market. Two, Apple has the money available to invest in the technology, and Apple can also invest in a follow-up market that can sell software and services for such a device.
While Gene Munster said outright that the Apple Glasses would be bigger than the iPhone, Toni Sacconaghi sees the connected spectacles becoming bigger than the Apple Watch and just as big as the Apple iPad. Within three years of its initial release, the Bernstein analyst sees Apple's smartglasses generating $25 billion a year in sales with minimal cannibalization of other Apple devices. On the other hand, he says that "there always remains the possibility that all of this hubbub over AR could lead to nothing." With that statement, Sacconaghi has both sides covered. If Apple Glasses is a hit, he can say that he was right. And if the product flops, well, he can point to the last statement and say he was right. Perhaps this is why the stock market remains a treacherous place for the average guy to invest.
"Smartglasses could potentially generate tens of billions of dollars in annual hardware sales for Apple. Comparing it to Apple's last blockbuster product launch, the iPad, we believe that smartglasses could have just as wide (if not wider) appeal over time. Assuming a $500 ASP23 and an annual adoption rate of 2% in Year 1, ramping up to 5% by Year 3,24 we estimate that Apple smartglasses could generate over ~$25B in annual hardware sales within 3 years of release, with minimal cannibalization of other Apple products.25 26 Apple would subsequently take a majority of profits within the resulting market for smartglasses, just as the iPhone, iPad, and Apple Watch have done so in their own respective markets."-Toni Sacconaghi, analyst, Bernstein
source:
Barron's
via
BGR