Analyst says Apple will decline in post-Steve Jobs era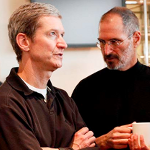 Apple is poised to decline in the post-Steve Jobs era
. Apple's co-founder and charismatic leader
died on October 5th after a long battle with pancreatic cancer
, and was replaced by CFO Tim Cook. The analyst doesn't see Apple suddenly falling apart. Instead, he thinks that the Cupertino based firm will still be on the rise for another two to four years, riding the
amazingly strong momentum
of the Apple iPhone and Apple iPad.
Colony says that the problems coming down the road for Apple will stem from
Cook's lack of charisma
and the analyst sees the company slipping from being a "great" firm to one that will be merely "good," with a decline in product innovation and revenue. The analyst, citing sociologist Max Weber, said that "
Charismatic organizations are run by people with 'the gift of grace
," but when those leaders depart and are replaced by a more bureaucratic leader, the change can be jarring to an organization. Colony notes that not only does Apple itself need a "
magical leader
" to replace the "
magical leader
" who is gone, but that Apple's customers also demand the same thing. With that in mind, the analyst believes that Apple executives
Jon Ive
and
Scott Forstall
both better posses the qualities that were found in Steve Jobs than Tim Cook does, and either would have been a better choice to replace Jobs as the tech titan's CEO.
"When Steve Jobs departed, he took three things with him: 1) singular charismatic leadership that bound the company together and elicited extraordinary performance from its people; 2) the ability to take big risks, and 3) an unparalleled ability to envision and design products. Apple's momentum will carry it for 24-48 months. But without the arrival of a new charismatic leader it will move from being a great company to being a good company, with a commensurate step down in revenue growth and product innovation. Like
Sony
(post
Morita
), Polaroid (post Land), Apple circa 1985 (post Jobs), and Disney (in the 20 years post Walt Disney), Apple will coast, and then decelerate."-George Colony, CEO Forrester Research
Apple hardly looks like a organization in trouble
after reporting its fiscal second quarter earnings
. Thanks to a better than expected 35.1 million units in Apple iPhone sales, the company topped analyst's estimates by reporting $12.30 a share in earnings. Wall Street had been looking for Apple to report $10.04 in earnings and the report helped the stock break a downtrend that had quickly taken nearly $100 off the company's all-time high.
Apple rose nearly $50 a share on Wednesday alone
. The earnings report combined with the still-heavy demand for Apple's iconic smartphone has some brokerage houses expecting the stock to hit $1,000. But if Colony is right, there is plenty of danger lurking ahead for Apple investors.
We can predict what the analyst expects Apple to be like once the decline has set in. Colony compares Apple post Jobs to Polaroid after the departure of inventor and founder Edward Land. That company ended up bankrupt and its name sold to another company. He also looks at Disney in the 20 years after Walt's death. The company became as bland as white rice with its G-rated movies not making any dent at the box office. It wasn't until another charismatic leader, Michael Eisner, took over that Disney prospered again with cutting
edge
movies. Another example Colony gave was Apple itself, following Jobs removal by the board in 1985. The stock dropped as low as $12 and under John Sculley, the company was on the verge of bankruptcy. It took
the return of Steve Jobs
to turn things around. The analyst sees Apple coasting and then decelerating.
source:
Forrester
via
CNN