Analyst expects Apple to provide newly re-designed Smart Cover at time of Apple iPad 5 launch
13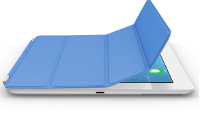 The
Apple iPad 5
is expected to emerge from the designers' table with a
thinner, lighter body and design cues
taken from the
Apple iPad mini
. That will mean a whole new line of cases to fit the newly svelte body of Apple's next tablet. Cantor Fitzgerald's Brian J. White has been talking with Chinese and Taiwanese based suppliers and besides running up the brokerage firm's long distance phone bill, the analyst found out that the iPad 5 will be 1/2 to 3/4 inch narrower than the prior version.
White attended some trade shows this past weekend where he found cases for the slate in the new, smaller dimensions. He also expects Apple to use these new dimensions to offer a newly upgraded Smart Cover. The accessory provides a very attractive profit margin for the Cupertino based firm.
White is also telling clients that Apple's installed base of iPad owners is ready to update after very few changes were found on the previous two models. Besides the new form factor, the iPad 5 is expected to be available in the same colors as the
Apple iPhone 5s
, namely gold, silver and space gray. New colors and the slimmer design could be enough to get current iPad owners to upgrade to the newer model.
Speculation has Apple announcing its new tablets on October 22nd
and the positing of this date, as speculative as it is, spurred plenty of activity in the iPad after-market. Trade-ins of the device at Gazelle spiked 86% week-over-week, and 269% year-over-year. Those selling their older iPads hope to use the money toward the purchase of a newer model.
source:
AppleInsider