Analyst expands on the reason behind the poor battery life of the BlackBerry PlayBook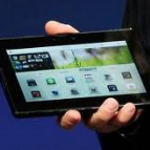 Recently, we
reported
that Kaufman Brothers analyst Shaw Wu had switched topics from writing about a Verizon branded Apple iPhone to claiming that the BlackBerry PlayBook suffers from poor battery life and that the launch of the tablet would need to be delayed. To refresh your memory, Wu's earlier analysis said that the BlackBerry's tablet had been getting only 2-4 hours of life in early testing as opposed to 6 hours for the Samsung Galaxy Tab and 10 hours for Apple's iPad. RIM blamed the short cell life on the fact that the units tested were beta versions without any power management and optimization of the battery.
Today, Wu has broken down his claims about the BlackBerry PlayBook's battery problems into 3 reasons why he still believes that the tablet has a cell life problem. Reason number 1 was one that the analyst had previously written about. The QNX software that RIM is using for the tablet was designed to run in products that are using power from a wall socket or a car battery. The OS was not intended for use in a mobile device where battery life is limited.
Another reason for the tablet's poor cell life is the use of the power-hogging Adobe Flash in the browser. As Wu wrote to his clients, "As seen in recent tests for the new MacBook Air, use of Flash can cut battery life in half….From our understanding, the poor battery life of early PlayBook units may be due to its incorporation of Adobe Flash."
The third and last reason for the Playbook's short battery life is that RIM's history of using power management in its devices is not as extensive as say, Apple's is. With the Apple iPad using its own homemade processor, Apple has a chance to build-in better integration of battery life into the product.
RIM responds by saying that they are producing a tablet that "offers superior performance with comparable battery life." Considering Wu's track record of incorrectly predicting specific dates that we were to see the Verizon branded Apple iPhone by, we should give RIM the benefit of the doubt and wait until a final version is launched before coming to a conclusion on the strength or weakness of the BlackBerry PlayBook's battery life.
source:
BlackBerryCool