Analyst blames Apple for slow NFC growth, we blame limited use
44
This article may contain personal views and opinion from the author.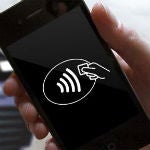 We've remarked before that NFC, while it is an incredibly useful product, hasn't seen the kind of adoption rate that many have hoped for in the United States. And, one analyst thinks that Apple is to blame for the slow growth of NFC. We can't agree that Apple is solely to blame, but it's hard to argue that it isn't at least part of the problem.
Juniper Research analyst Dr. Windsor Holden has said that NFC growth forecast likely won't get to the $180 billion mark by 2017, and that $110 billion is more likely. This, according to Holden represents a "two year lag" in NFC adoption projections for North America and Western Europe. Holden claims that Apple's decision to not include NFC in its iPhone 5 is "a serious blow for the technology" making it "even more difficult to persuade consumers – and retailers – to embrace what amounts to a wholly new means of payment."
We think that's a bit hyperbolic. Sure, Apple's iPhone does still make up
around 50% of the smartphone market
, meaning NFC is missing out on millions of devices, but we
never expected Apple to add NFC
anyway. Android has been making up a larger proportion of shipments, and steadily outpacing Apple in sales for a while now. And, the fact is that there are only a handful of Android devices that have NFC built in.
The fact is that NFC has been successful, just not in North America or Europe. NFC has been used widely in Japan for a number of different things, and has been a successful technology in the region since before the iPhone or Android even existed on the market.
NFC uses are still too limited
NFC isn't yet a standard for smartphones, and that's because the NFC infrastructure hasn't been built out enough yet. What good would having NFC in the iPhone be if the only places you can use NFC are McDonald's, 7/11, and some pharmacies? As yet, the American people haven't been shown the real value behind NFC, because it's use case has been limited to mobile payment systems, which are up to the credit card companies (which control the card swipe machines at all stores) to upgrade.
It's a vicious cycle where payment systems aren't upgraded because not enough people use NFC, and not enough devices have NFC, because there aren't a lot of uses for it in our region yet. NFC can't be a replacement for your wallet if the only thing it replaces are credit/debit cards. We need to see more adoption for other uses like you see in Japan, where NFC in phones can replace your public transit card, your library card, and other membership cards. It can store your medical history making for easier trips to the hospital with less paperwork. NFC can replace paper tickets for movies, and travel.
NFC can also act as part of the augmented reality system. We saw Google giving out NFC tags for businesses a couple years ago, and that's an idea that died completely. There's no reason why historical sites, or even just advertisements, or businesses can't have NFC tags embedded that bring people to a website with more info, or videos, or anything.
Beyond that, there is trouble with compatibility between NFC devices. NFC chips in various Android devices - Samsung, HTC, Nexus, etc - can't even always communicate between each other because manufacturers change the core Android Beam. And, that's just within the Android community, and doesn't take into account how Windows Phone, BlackBerry, and other platforms handle NFC transfers.
So, sure, the NFC growth rate may be slowed a bit by Apple's decision to not include NFC, but the real problem is that companies still have too limited a view of what NFC can do, and how to best market it. There are very few times when people have any use for being able to tap phones together to share things. That can already be done in so many other ways that features like Android Beam or S Beam are little more than gimmicks, and can't always work together. Mobile payments makes the most sense, but that's not all that NFC can do, and the sooner companies realize it, the sooner we'll see NFC added to more and more devices.