Analyst: Number of first time Apple iPhone buyers is rapidly shrinking
70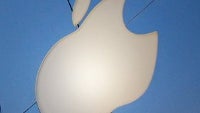 Sanford Bernstein analyst Toni Sacconaghi is telling clients that his research shows that the number of first time Apple iPhone buyers is
shrinking
. Last year, 62% of iPhone sales came from first-time buyers, a number that is expected to drop to 54% this year. That is a drop of 13% in net new iPhone buyers. The analyst's concern is that without a deal with China Mobile or the introduction of a really low priced model for developing countries, there are not enough first time Apple iPhone buyers left for sales to meet consensus forecasts for 2014 and 2015 sales of the device.
The problem with this analysis is that it does appear as though a version of Apple's iconic smartphone will be available to the 750 million subscribers of the world's largest carrier. The other day, we showed you a picture of the
Apple iPhone 5s
being tested on China Mobile's TD-LTE pipeline
. While the
smartphone itself has been approved by the country's equivalent of the FCC
, China Mobile is waiting for approval from China's regulators to turn on its 4G LTE network.
But since Sacconaghi apparently spent so much time on this analysis, let's assume that the China Mobile deal doesn't go through. The analyst sharpened up his pencils and computed that first time buyers of the Apple iPhone will drop to 37% of total buyers in 2014, and 28% in 2015. That means that by 2015, nearly 70% of those buying an iPhone will be replacing an older model.
So what is the big deal about the saturation of this market? For one, replacement buyers won't be repurchasing all of the content and apps they have already purchased, which means less revenue for developers. It also would put pressure on Apple to make each year's upgrade of the iPhone just different enough to get current owners of the device to want to buy the new model. Actually, that sounds just like what Apple is doing now!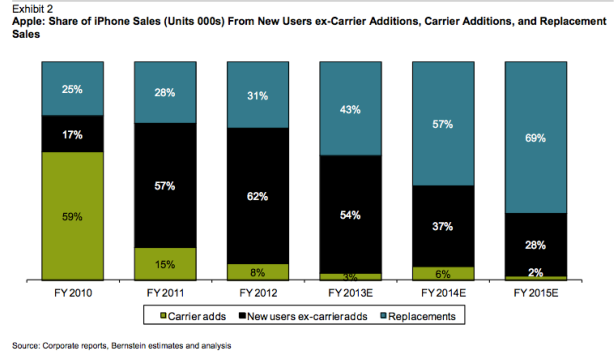 Analyst sees further drops in first time Apple iPhone buyers
source:
Fortune
via
ZDNet
Recommended Stories