Analyst: Amazon Kindle Fire will own half of the Android tablet market in 2012
11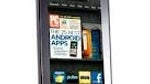 According to Evercore Partners analyst Robert Cihra, the
Amazon Kindle Fire
will own half of the market for Android tablets by 2012. Even though the tablet was launched just a bit more than a couple of weeks ago, some pencil pushers are predicting as many as 5 million units of the tablet will be sold in the fourth quarter. The big feature driving these sales is price as the Amazon Kindle Fire is priced at $199.99.
Cihra says that Amazon has to sell its tablet at cost to mount a competitive threat to Apple (actually, previously reported studies show that Amazon is
taking a $10 hit on each tablet sold
, but turns a $10 profit on each tablet
after selling apps, content and cloud based storage
to Kindle Fire buyers. Cihra also says that Amazon's game plan might also eliminate other Android powered tablets. According to the analyst, "...
Apple goes on as the only vendor able to cream off the most profitable segment of each market it targets, whether tablet, smartphone or PC
."
Despite the minimal impact that Cihra expects the Amazon tablet to have on the iPad, he did reduce his estimate of Apple's Q1 tablet sales by 1 million units to 14 million. He also lowered his Q1 revenue estimate for the Cupertino based firm from $39.4 billion to $39.1 billion. He also cut his first quarter earnings estimate 2 cents a share to $10.26. Thanks to the ever growing influence of the Apple iPhone on the company's financials, he sees gross margin rising to 41.1% in Q1.
source:
Fortune
via
BGR