An iPhone case with 3,000mAh battery, and seriously loud speakers, the Peri Duo
6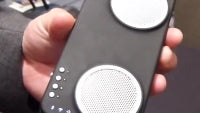 Not every smartphone design lends itself to having front-facing speakers, indeed, many of us are condemned to cupping our hands in order to hear the audio coming from a video or music track.
Peri Audio has a nifty solution to that circumstance as far as the new iPhones are concerned. It has designed a battery case that is fully connected, charges your phone, and is packing two seriously loud speakers.
The Duo will work with the
iPhone 6
,
6 Plus
, and the new
iPhone 6s
and
6s Plus
(Android device models under development). Connectivity can be made via direct docking the phone into the case, via Bluetooth, or Wi-Fi. The Duo also supports Wi-Fi direct connectivity, what Peri calls Quick Link, so you can broadcast across multiple Duo speakers at once, up to 64 total.
Looks can be deceiving, and at first glance, you might think those speakers don't have much output. However, as you can see in our video below, they can get loud, really loud, even when pointed in the opposite direction.
A simple press of the button can offer up to 150% of extra battery life, and offer up some high-definition audio while also protecting your iPhone. The Peri Duo is available for pre-order now at a special introductory price of $119. Pre-orders should arrive in time for Christmas. After units start shipping, the expected retail price will be $189.
source:
Peri Audio