American Airlines will use an iPad app in lieu of navigation charts
14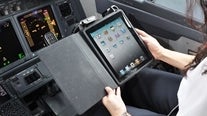 American Airlines has caught tablet fever. They recently began offering Samsung Galaxy Tab 10.1 devices to their first and business class passengers, to tap into the inflight Wi-Fi. But now they will be incorporating tablets into the pilots' activities as well.
In lieu of cumbersome cases of navigation charts, pilots in a new test program will be using an iPad.
The iPad will run a special FAA-approved app
providing the pilot with all the navigational information contained in the traditional flight bag.
American Airlines claims that
the reduction in weight (35 pounds), will save the airline over $1 million per year
. That sounds fairly optimistic, considering the variability of passengers' luggage. How much difference can 35 pounds really make on a giant bus with wings?
You might be wondering why the pilots are allowed to use an iPad when passengers are instructed to turn off and stow their own electronics. The FAA has granted special permission to use the iPad app. But we don't think that extends to you surfing the web during takeoff.
source:
AppleInsider