Amazon stylus patent: Where there's smoke there's Fire?
3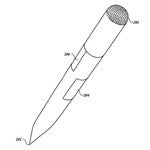 It looks like Amazon is joining in on the
mobile patent fun
– The USPTO has granted the online resale behemoth two new patents, pertaining to input and annotation on mobile devices. One of the patents involves using an input device (like a stylus) that can execute code based on interaction with the content displayed on a device – think of a stylus that could be used for signing secure documents, or indicating who (of multiple people) were correcting a paper or design, regardless of whose tablet you were using, since the input device could be linked directly to an account (presumably an Amazon account).
The other patent involves a method to store and transmit "annotations", including the exchange of information or money that could authorize an annotation. Don't get too caught up here on "annotations" like you'd get on a term paper or from your boss – this could refer to newer versions of songs, books, movies, etc.
Obviously not all patents find their way into products, but once you get past all the techno-speak it seems like Amazon has two very related, and very relevant patents for their ecosystem – together these patents could let you order things for yourself with a stylus or other device, even on other people's Kindle Tablets. It could also allow for strict revisions in a file, whether due to collaboration or for the sake of commercial opportunity.
In short, Amazon is inventing new ways to let you interact with and purchase stuff through their ecosystem. If the
rumors are true
that we could see larger Kindle Fire models later this year, we might expect them to come with a stylus that could actually be pretty important to their overall function.
source:
Engadget