Amazon releases full video of Amazon Kindle Fire tablet announcements
2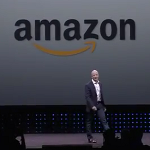 Just because you weren't at the Amazon/Microsoft event that
unwrapped a plethora of new tablets
for the online retailer, it doesn't mean that you can't view it at your own convenience. Amazon uploaded the event, all 72 minutes and 28 seconds of it, so that you can watch it for yourself. If you weren't there, you missed Amazon introducing the
Amazon Kindle Fire 2
, its $159 low priced sequel to the original model. you also didn't see the higher priced
Amazon Kindle Fire HD
7 inch model with 16GB, priced at $199.
Amazon Kindle Fire HD 8.9
inch model for $299 and the
Amazon Kindle Fire HD 8.9 4G LTE
for $499. Amazingly, a year of data costs only $50. And if you're wondering
how Amazon can afford to sell these tablets at such low prices
, it all comes back to what we told you last year with the launch of the OG Amazon Kindle Fire. First, Amazon sells content like video, games and music. Amazon also has its app store through which it sells apps. Finally, there is the cloud-based storage that it sells.
Last year, Amazon didn't have an LTE connected model. Now, in order to allow users to buy a year's worth of data for just $50, Amazon is selling tons of ads to help subsidize the low prices of the Kindle Fire line, and the word is that
users cannot opt out of receiving these ads
.
If you are a big fan of Amazon's devices, you can feel the excitement all over again by reliving Thursday's event. Simply click on the play button below.
source:
Amazon
via
Phandroid