Amazon makes its Maps API available; Nokia is the wizard behind Amazon's mapping service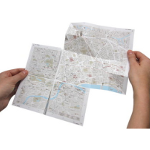 Amazon hasn't been so quick to reveal who is behind the Google-less mapping application on the Amazon Kindle Fire line. The secret is now out thanks to Nokia spokesperson Sebastian Kurme who revealed that it is the Finnish based company behind the service on Amazon's tablets. The same software powers the
highly regarded Nokia Drive
as well as
Yahoo! Maps
and some of the mapping features offered by
Bing
. Nokia's Location Platform allows developers to use Nokia's set of APIs to build location based mobile apps with functions for "Maps, Positioning, Places, Directions, and Traffic". The APIs will work on mobile and web apps as well as on HTML5 apps (in beta).
Amazon tablets have been DeGoogle-ized
, to coin a word, and Amazon would surely prefer that developers not use the Google offering.
In beta, developers who want to switch to the Amazon API must be invited. To do so, click on the sourcelink or go to the Amazon Mobile App Distribution Portal. Amazon says it will use a "
simple migration path
" for those who want to switch.from the native Google API on Android. The API will allow developers to toss in an interactive map on their app which will allow users to "travel" the world. Local businesses can use the ability to put up a custom overlay to attract customers using a variety of pins or pointers to show their location on a map.
Amazon is licensing the Nokia Location Platform (NLP) for maps and geocoding.

The Nokia Location Platform is the most advanced mobile location platform with a unique global footprint. It provides maps for almost 200 countries (with more than 100 of them navigable) and provides the best, automotive-grade map quality based on industry-leading technology and more than 20 years expertise in mapping.

Amongst others, it is already powering Yahoo Maps, and increasingly also powering Bing Maps as well.

Location is playing a central role in our strategy, and because of its global footprint, quality and completeness of performance (geocoding, routing, traffic) the Nokia Location Platform offers great opportunities for 3rd parties to build upon.

Amazon´s decision to choose the Nokia Location Platform is further proof point that our competence in this space is a key differentiator also for other leading players in the industry to offer great location consumer experiences."-Nokia
source:
Amazon
,
TheNextWeb
via
Engadget