Amazon isn't afraid of failures, wants to launch more Fire phones in the coming years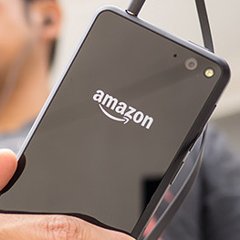 Last week,
Amazon slashed the price
of its
Fire Phone
to $199 off contract, not long after
admitting
that it "didn't get the price right" in the beginning, when it was asking $199
with
a contract for the handset. The Fire Phone is definitely a flop, possibly the biggest in the smartphone industry this year. However, Amazon CEO Jeff Bezos doesn't see it as a failure - not yet.
According to Re/code, Jeff Bezos recently declared that "it's going to take several iterations" of the Fire Phone before he can properly judge the success or failure of the product. He then suggested that Amazon would launch at least a few new Fire Phone models in the coming years, apparently believing that this initiative may be one that simply needs time to take off. Bezos also said that it's OK for companies to continue to experiment and "embrace failure", reminding us that he'd "made billions of dollars of failures" - and yet Amazon remains one of the largest an most profitable internet-based companies in the world.
Regardless of what Amazon's CEO is saying, the Fire Phone is a failed experiment from the consumer point of view. Of course, this doesn't mean that future models can't be successful. But we'll just have to wait and see about that.