Amazon gears up to expand hardware beyond the Kindle
0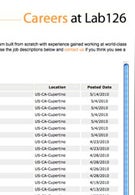 Amazon's Kindle e-reader, first released in late 2007, integrated Amazon's literature library with a practical/portable reading device. The hardware division of Amazon that created the Kindle, Lab 126, is now posting nearly 80 available positions ranging from 'Firmware Engineer' to 'Interaction Designer'. This might be indicative of a massive Kindle overhaul, but it is also likely that Amazon is expanding to other media devices.
An Amazon insider told the New York Times that the "original goal for the lab [Lab 126] was to build a range of other devices". It would then follow that Amazon is pushing to expand their integrated media line, especially in light of recent fierce competition. Apple, which already had a stranglehold on music downloads, recently released their iPad and iBookstore, both of which compete directly with the Kindle's market share. Amazon, with its existing book, music, game, and movie downloads, is perfectly poised to adapt competitive media devices.
As for an eventual Amazon phone, the source has said that the topic has been discussed, but seemed to be "out of Amazon's reach" at the moment. However, the company has reportedly not rejected the idea for good, meaning it might reconsider it at some point in the future.
While we don't expect these devices any time soon, we can hopefully look forward to iPad-competitive Kindle upgrades in the meantime.
source:
New York Times
via
Pocket-lint