Kantar: Amazon Echo still dominates the smart speaker market
4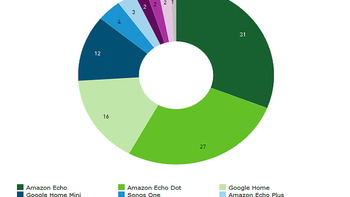 Smart speakers are currently the hottest new tech product. And the good news for manufacturers of the device is that there are still many households without one. The bad news for smart speaker producers is that one company continues to dominate the market, and that is the creator of the category. Yes, the Amazon Echo owns a whopping 66% market share based on a survey of 1,097 American consumers conducted through Lightspeed's VICE Voices. Amazon started to distribute the product on a widespread basis in 2015. Google Home smart speakers finished second with 30% of the market.
The survey also revealed that the feature most used by smart speaker owners is the ability to play music, podcasts or books (19%). Checking the weather, setting a timer and getting information are the tasks requested by 15% of smart speaker users. Only 7% are making calls or are ordering products using their new tech toy. Half of those surveyed say they use their smart speaker several times a day, while 26% turn to the device at least once a day.
According to a separate study done by Google, those who use their smart speaker for shopping have a "deeper relationship" with the device. Besides being first to market, e-commerce is where Amazon might have a big advantage over the competition with its Echo line.
source:
Kantar