Amazon confirms it sells hardware at cost, not making money on it
10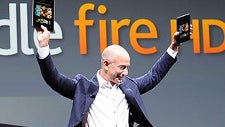 The
Amazon Kindle Fire
kickstarted the niche of $199 7-inch tablets that has grown tremendously since then. But if you think that Amazon reaps huge margins out of the device, you'd be wrong.
Amazon lastly unveiled its second wave of Kindle tablets under the Fire HD brand. All of them come with high-resolution screens with prices starting from $199 for the 7-inch model, and $299 for the 8.9-inch device.
"Basically, we sell the hardware at our cost, so it is break even on the hardware,"
Bezos said in an interview for the BBC.
"We're not trying to make money on the hardware."

So where does Amazon makes its profits from? Obviously, it works similarly to the way Google does with Android by releasing the world's most popular operating system for free. In this case, Amazon doesn't do it for the ads, but for user engagement into its ecosystem. That model is hardly making it much money, but revenues are growing and some people like Google chairman Eric Schmidt actually think it's one of the big four along with Google, Apple and Facebook.
source:
BBC