Amazon Kindle Fire HDX 8.9 beats out the Apple iPad Air and Nexus 10 in display test
8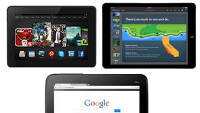 DisplayMate recently held a display battle between the
Amazon Kindle Fire HDX 8.9
, the
Apple iPad Air
and the
Nexus 10
. According to DisplayMate's Raymond Soneira, not only did the Kindle Fire HDX 8.9 beat out the Retina display sporting iPad Air, it was actually the best panel ever tested by the company.
Amazon's new flagship tablet bested Apple's new flagship slate in areas like viewing angles, contrast, screen reflectance, high ambient light contrast and absolute color accuracy. In that category, the Kindle Fire HDX 8.9 scored "Very Good" compared to "Good" for the iPad and "Poor" for the Nexus 10. All three tablets were bright with the Kindle Fire HDX scoring the highest reading ever seen in a DisplayMate battle at 527 nits compared to the iPad Air's 449 nits.The Nexus 10 finished third in that category.
It is interesting that the Amazon tablet borrows from the Apple iPhone. It uses the same Low-Temperature Poly-Silicon (LTPS) LCD that Apple's iconic smartphone does and the Amazon tablet sports the largest LTPS screen on a mobile device. Soneira noted that the screen on the iPad Air does offer some improvements over the
third
and
fourth-generation iPads
, including higher brightness levels and improved contrast. The IGZO screen on the iPad Air provides a 57% improvement in power efficiency over last year's new iPad.
In scoring the Color Gamut, both the Amazon and Apple tablets were close to the sRGB/Rec.709 Standard, in the range of 105% to 108%. But the Nexus 10 scored 58% which put it in a category with tablets like the
Apple iPad 2
,
Apple iPad mini
and
Microsoft Surface RT
. Overall, DisplayMate gave the Amazon Kindle Fire a score of "A" (excellent) while the Apple iPad Air received an "A-" (very good). The Nexus 10, with its 2560 x 1600 resolution screen, was given a "B" (good) for its display.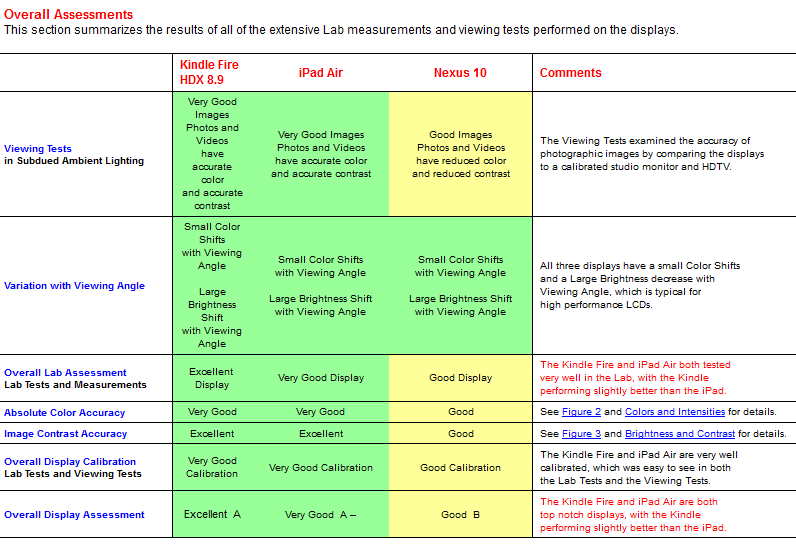 DisplayMate rates the Amazon Kindle Fire HDX 8.9 display the best over the Apple iPad Air and the Nexus 10
source:
DisplayMate
via
AppleInsider
Recommended Stories