Amazon's Echo Dot is priced at an all time low
2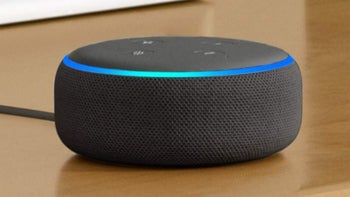 While Amazon Prime Day doesn't start until tomorrow, you can get a head start on all the deals by purchasing the Amazon Echo Dot at its lowest price ever. Normally $49.99,
the third-generation smart speaker can be yours for only $22
. That is a remarkable 56% savings and undercuts the previous low of $24.99. And three Dots will cost you $59.99 (the discounted price will appear at checkout).
We at PhoneArena are keeping careful track of all the Prime Day Sales, both at Amazon and elsewhere. You only have to check out our deal hub for the best deals to find what you need!
The smart speaker category was created by Amazon with the Echo back in 2014. First available only to Prime members, Amazon broadened distribution in June 2015 and never looked back. The product also introduced virtual personal assistant Alexa to the world. While the original Echo Dot looked a bit like an overgrown hockey puck, the latest version includes a "fabric design" and improved sound. Color options are Heather Gray, Charcoal and Sandstone.

With Alexa you can control your smart home devices, stream music, hear the latest weather and news, find out how your favorite team is faring today and check out your portfolio. The device will also allow you to set alarms and timers, There are more than 70,000 skills available for Alexa and with the app and your smartphone, enabling them for your Echo Dot is just a tap away.
As of the end of 2018,
only 21% of adults in the U.S owned a smart speaker
. That figure should rise this year, and with deals like this one, now is the best time to take the plunge if you don't own a smart speaker. And if you already own an Echo device, this would appear to be a great time to add more and put together an intercom system in your home.

The Amazon Echo Dot is priced at $22, an all time low
Recommended Stories