Almost 75% of Americans don't want mobile payment systems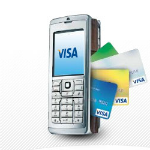 Nearly every major player in the mobile space is pushing to be number one in mobile payments, but it turns out that no one bothered to check with consumers to make sure they actually want mobile payment systems. According to a new survey by researchers at UC Berkeley, almost 75% of consumers have no interest in mobile payment systems, mostly due to privacy concerns.
The researchers surveyed 1,200 "adult internet users" and found that 74% do not plan on using mobile payment systems. An amazing 96% of respondents were wary of any system that would track them via their mobile device, and 81% were worried about sharing personally identifiable data like their address or phone number with the merchant during a mobile payment transaction. However, just 51% cared about sharing their e-mail address during a transaction.
This seems like a parallel to what happened when credit card payments first made their way onto the Internet. People were wary about the security and privacy of the payment systems at first, but eventually those fears were quelled and now the web is a huge space for commerce. No doubt the same will happen with the various mobile payment systems like Google Wallet, ISIS, Square, and PayPal, which will have to earn the public's trust before seeing widespread adoption.